What Does Resilience Look Like?
Staying calm a sign of resilience
Eighteen-year old Cherelle LaGrou was hiking alone on a mountain near Denali National Park in Alaska looking for waterfalls. She was nervous because of the slippery terrain. She had been talking with her mom Shelly LaGrou for about 15 minutes by phone when suddenly Shelly heard her daughter scream. This was followed by terrifying silence. Her daughter had just fallen 30 feet from a cliff.
Shelly waited to hear her daughter and when she finally came back on the phone, she was hysterical and crying that she didn't want to die. She was hanging on to the side of the mountain and her feet kept slipping.
Fifteen hundred miles away in Washington State, Shelly remained calm and reassuring. They prayed together that angels would hold the teenager against the wall of the mountain.  Her husband called their daughter's employer in Alaska who alerted Alaska State Troopers. They were dispatched to the mountain and 45 minutes later she was rescued.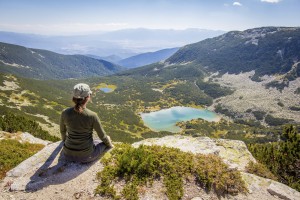 Shelly's calm and reassuring presence and comforting prayers surely helped to avert a disaster. Her husband's quick response and knowing who to call for immediate help led to a rescue just in time.
Staying calm in the midst of a crisis is the hallmark of resilience. The LaGrou's didn't panic. Their resilient response probably saved their daughter's life.