Six Ways to More Joy and Happiness in Your Life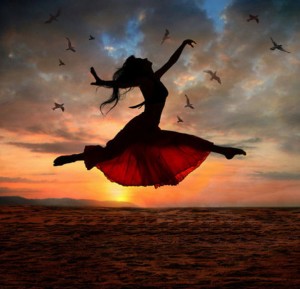 Six Ways to More Joy and Happiness in Your Life
By Gail Wagnild
Reading time: 3 minutes
If you want to chase away the shadows, consider filling your life with more joy. When we feel joy, we experience feelings of pleasure and delight. Sometimes joy is pushed to the side as we strive to meet the pressing demands that fill our days.
But joy is there waiting for us to rediscover and in those moments of joy we worry less and feel more lighthearted.
What do happiness and joy have to do with resilience?
There is much accumulated research now that says if you can minimize thinking about the negative parts of your life, you will be more resilient. This doesn't mean that you delude yourself but rather that you learn to see hope where there is despair and discouragement. Knowing that we can experience joy in the midst of suffering helps us get through difficulties and makes life worth living. Envision joy as the light that dispels shadows. Think of it this way:  If you can learn to see joy every day, doing so will go a long way toward helping you cope with the daily ups and downs of life.
Watch Ingrid Fetell Lee TED2018 talk on "Where joy hides and how to find it".
https://www.ted.com/talks/ingrid_fetell_lee_where_joy_hides_and_how_to_find_it?language=en
Is there anything that gets in the way of experiencing joy and happiness? John Izzo's book "The Five Thieves of Happiness" identifies five thought patterns that can rob us of a joy filled life:
The need to control instead of learning to surrender and accept.
The tendency to serve ourselves and focus on our happiness rather than to serve others and something outside of ourselves.
Comparing ourselves to others and coveting their lives rather than being grateful for our own.
Believing that things outside of ourselves bring us happiness rather than realizing that happiness is an internal choice. We often believe that money, youth, possessions, and physical attractiveness will lead to more happiness but the boost in happiness is usually temporary.
Sticking to comfortable and safe routines instead of trying something new that can lead to greater happiness.
According to Sonya Lyubomirsky (Professor in the Department of Psychology at the University of California, Riverside), increasing joy and happiness depends on regular and intentional activities in how we think (e.g., learning the thought patterns associated with positivity and optimism) and behave (e.g., working toward goals, exercising, spending time in nature, and helping others).
Create an account at www.happier.com, a free website made for users to share the things that bring them joy.
10 specific practices others do to create joy in their lives:
| | |
| --- | --- |
| ·         Listen to music | ·         Spend time in the sunshine |
| ·         Send a thank you note | ·         Eat an ice cream cone |
| ·         Take a nap | ·         Bake a batch of cookies for someone else |
| ·         Volunteer in your community | ·         Take a long warm soak in a tub |
| ·         Play with a pet | ·         Spend an afternoon with a good friend |
Six Proven Ways to More Joy and Happiness in Your Life
In order to live a happier and more joy filled life, the following six practices, done daily and intentionally, will make a positive difference in your life.
Identify those things you are grateful for every day. You might want to keep a journal. You might also consider writing thank you letters and notes to others.
Give to others. Be kind to others. Do things for others.  
Do things that are meaningful to you and that you are able to immerse yourself in.
Care for yourself and treat yourself well (i.e., sleep, move, eat well).
At the end of the day, take time to reflect on positive things about yourself and on those things that went well rather than focusing on those that didn't.
And finally, practice living in the moment and appreciating where you are and what you are doing now.
It's Your Turn…
Take a few minutes and write in your journal 3-5 specific things that are guaranteed to bring you joy and incorporate them into your life. In your journal, also write down something specific from today that brought you joy.