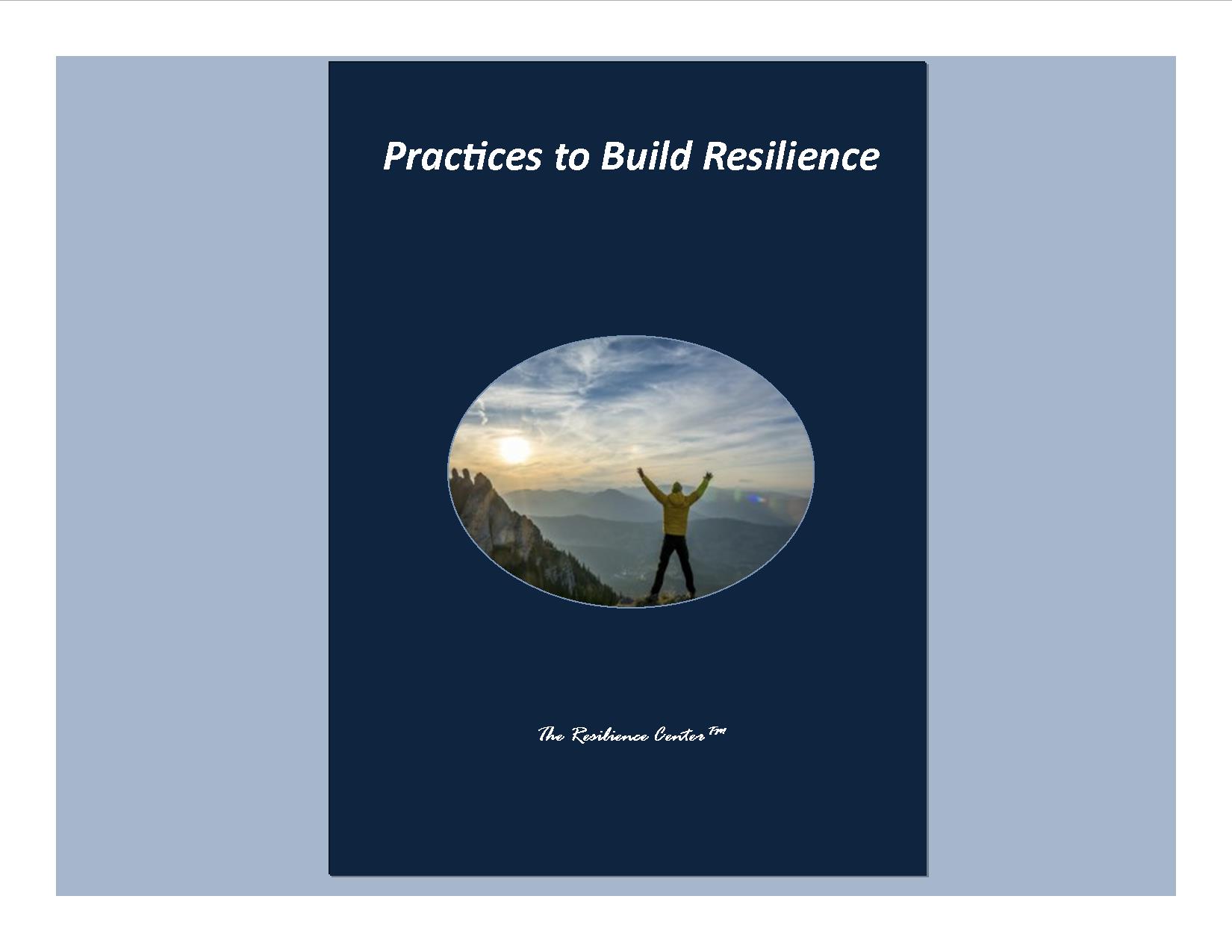 Practices to Build Resilience complements the Resilience Profile and is intended for coaches, counselors, workshop facilitators, wellness programs, individuals, and anyone who would like more ideas on how to build resilience.
This digital resource is provided to anyone who purchases licenses to use the online Resilience Assessments for Adults and online Resilience Assessments for Youth.
Scroll down for a list of practices included in this resource.
Practices to Build Resilience
Contents
Practices to Build Resilience

2

Sense of Purpose

6

Quick Assessment

Practice #1: Dream

Practice #2: Your Purpose Finds You

Practice #3: You Are Unique

Practice #4: There Are Things That Bring You Joy; What Are They?

Practice #5: Get Unstuck

Practice #6: Look for Patterns

6

7

9

10

11

14

15

Authenticity

16

Quick Assessment

Practice #1: Stop Being Who You Aren't

Practice #2: What Matters Most to You?

Practice #3: If You Really Knew Me

Practice #4: Recognize and Accept How Others Value You

Practice #5: Rely On Your Values to Guide Your Decisions

Practice #6: Don't Let Anyone Else Define Who You Are

16

17

18

19

20

21

22

Equanimity

23

Quick Assessment

Practice #1: Breathe

Practice #2: Practice being Positive

Practice #2: Realistic Optimism

Practice #4: Keep Your Perspective

Practice #5: Humor

Practice #6: Gratitude

23

24

25

26

27

28

29

Self-Reliance

30

Quick Assessment

Practice #1: Learn to Make Good Decisions

Practice #2: Decision Matrix

Practice #3: Push the Envelope

Practice #4: Know What You're Good At

Practice #5: Act Like a Self-Reliant Person

Practice #6: Depend On Your Strengths

30

31

32

33

34

35

36

Perseverance

37

Quick Assessment

Practice #1: Dreams and Determination

Practice #2: The Power of Support

Practice #3: Prepare for Roadblocks

Practice #4: Success Mindset

Practice #5: Self-Discipline while Working from Home

Practice #6: How Much Perseverance Do You Have? 11 point checklist

37

38

39

40

41

42

43

Manage Your Stress

45

Quick Assessment

Practice #1: Build In Daily Stress Reducing Activities

Practice #2: Simplify and Slow Down

Practice #3: Recognize the Source of Stress

Practice #4: Reduce and Relieve Distress

Practice #5: Seek Serenity

45

46

47

48

49

50

Care for Your Health

51

Quick Assessment

Practice #1: Get Adequate Sleep

Practice #2: Eat Well

Practice #3: Exercise Every Day

Practice #4: Strengthen Your Spiritual Life

Practice #5: Enrich Your Intellectual Life

51

52

53

54

55

56

Connect with Others

57

Quick Assessment

Practice #1: Strengthen Friendships

Practice #2: End Loneliness and Isolation

Practice #3: Live a Blue Zones Life

Practice #4: Create a Sense of Belonging

57

58

59

60

61

Find Balance

63

Quick Assessment

Practice #1: Start with Action

Practice #2: Look at the Whole Picture of Your Life

Practice #3: Be Aware of Things that Emotionally Exhaust You

Practice #4: Only Say Yes If You Mean It

63

64

65

66

67

Engage In Life

68

Quick Assessment

Practice #1: Find Joy

Practice #2: Move Forward

Practice #3: Celebrate

Practice #4: Six Ways to More Happiness In Your Life

68

69

70

71

72